<- Estrogen in Water Part 1: The Dangers of Estrogen in your Drinking Water

So What Is The Ultimate Best Source of Drinking Water?
The Environmental Working Group (EWG) recommends filtered tap water as the number one source of drinking water.
Not only is filtered tap water cleaner than any form of bottled water, it's also far cheaper for you to live on filtered tap water than on bottled water.
It's funny how we don't think twice about forking out a good few dollars per gallon for bottled water (more than the price of gasoline!), and yet wonder if we can handle the financial burden of paying mere pennies per gallon for a standard water filter.
The trouble with water filters is there are hundreds of different makes and models to go for, and the task of selecting the right one for your needs can be pretty daunting. But worry not – they all use a small number of technologies to remove toxins. I'll tell you about two of the best types of water filter a little later in this article.
Which Water Filter is Best for Removing Estrogen?
Well reducing estrogen and reducing the feminizing effect of tap water are two different things.
The major types of estrogen found in our water supply include estrone, estradiol, estriol, and the synthetic ethinylestradiol from medications like the oral contraceptive pill. You could just focus on removing these estrogens from your water supply, and a number of studies have focused on exactly that.
The trouble however, is that many of the other more than 100,000 chemicals in wastewater effluent, also have an estrogenic effect on our bodies. These include dihydrofolliculin, octylphenol, nonylphenol, polyethoxylates, trihalomethanes and bisphenol A.
Scientists have also discovered a new class of chemicals that have anti-androgenic (i.e. anti-testosterone) properties. Anti-androgens can be just as feminizing as estrogens.
So rather than look for a water filter that's just good at removing estrogen, I really think it's better to look for one that's good at removing all toxins and impurities in general. This will not only give you water that has a lower feminizing effect on your body, but removing other toxins will be better for your health in general.
Choosing A Water Filter That's Right For You
There are hundreds of different water filters to choose from. The filter that's best for you depends on the type of contaminants in your local water supply and your budget.
Your first step is to get a copy of the 'Water Quality Report' published annually by your water utility. It may also be called a 'Consumer Confidence Report', or just 'Drinking Water Quality'. You should be able to find it online.
On the report, take note of the pollutants that are close to or exceed the Maximum Contaminant Level (MCL) set by the government (it will say so on the report). When choosing a filter, do your research to make sure it can filter out these particular chemicals.
Activated Carbon Filters

Activated carbon filters are very cost effective, easy to install, and take up very little space. They are effective at removing a wide range of different chemicals including estrogens, but don't fare so well with dissolved minerals like fluoride.
Advantages
In general, activated carbon filters are your best choice if you are on a tight budget. They remove a wide range of different contaminants, including steroid estrogens and many estrogenic substances like trihalomethanes.
Carbon filters are cheap to buy, cheap and easy to maintain (just one inexpensive cartridge to replace every 6-12 months), easy to install, and don't take up much space.
Disadvantages
Carbon filters are not as thorough as reverse osmosis filters. They struggle with toxic metals, and don't remove mineral-based contaminants like fluoride.
Studies show they remove about 80% of estradiol, which is far better than no filter at all, but not as thorough as reverse osmosis.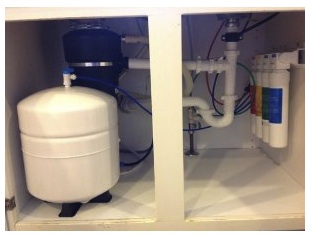 Reverse omosis filters are very effective at removing impurities from your water. They have to be integrated into your plumbing, and with multiple filters and a storage tank, can take up quite a bit of space.
Advantages
Reverse osmosis (RO) does a great job at removing contaminants that carbon filters don't, like fluoride, arsenic, nitrates and perchlorate. Most RO filters are combined with a carbon filter, so they end up removing everything a carbon filter does and more. It's important though, to make sure that the carbon filter is a good, high quality one (many are not, so beware!).
Disadvantages
High purchase and maintenance cost. Depending on your model, you are generally advised to replace the reverse osmosis membrane every 2-3 years (though some models last much longer), and multiple (generally 1-5) carbon filter cartridges every 6-12 months.
Also, you need a plumber to install one of these, and since it consists of a storage tank, a membrane and usually multiple filters, it can take up quite a bit of space.
RO filters are so thorough, they even remove healthy natural minerals. Some natural health practitioners say this is harmful, since de-mineralized water doesn't occur naturally anywhere on the planet. Many nutritionists argue though, that you get plenty of these minerals in the food you eat, so you don't need it in your water.
You may prefer carbon filters because they leave in natural minerals. However if your water contains large amounts of nitrates or fluoride, then you need to use reverse osmosis to remove them (hence why you should get a copy of your provider's water quality report).
———
Not all carbon filters and not all RO filters are the same. It's important to do your research, and make sure your filter is certified by the California Department of Public Health or the National Sanitation Foundation (NSF).
Other Things You Can Do
In the modern world, we are bombarded by estrogens, estrogen-like particles, and anti-androgens from all directions. They are in the food we eat (in the form of preservatives, flavor enhancers, fertilizers, hormones and more), in the air we breath (from vehicle exhaust fumes and general pollution), and the cosmetics we use on our skin (in the form of parabens and other chemicals).
Although the government and industry will argue there is not direct evidence, there is more than enough indirect evidence to suggest these chemicals are responsible for various cancers and countless diseases and developmental disorders. Studies suggest these chemicals are linked to decreasing sperm counts and testosterone levels in men, and increased incidences of conditions like gynecomastia.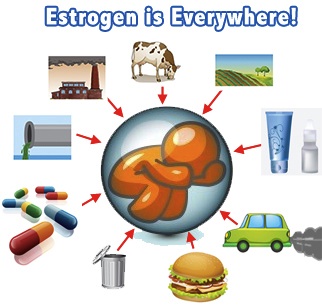 Estrogen is everywhere in the modern world, you'd have to be living in a bubble to avoid it all. But thankfully, you can take specific measures to defend yourself.
You'd have to be living in a bubble to avoid all of the feminizing chemicals in your environment. The least you can do though, is avoid as many as you can.
Installing a water filter is a good start. It's also important to exercise and make dietary and lifestyle changes.
The right type of exercise (like high intensity interval training and resistance training) can help to combat estrogen by boosting masculine hormones like testosterone and growth hormone.
Eating organic produce and avoiding grains and refined carbohydrates can help to reduce the estrogenic effect on your body. Steaks, organ meats, seafood, nuts'n seeds and the right vegetables can help boost testosterone levels.
Watch the How To Lose Man Boobs Naturally video
If you have man boobs, it's probably because you have too much exposure to the female hormone estrogen. How To Lose Man Boobs Naturally gives you the lo-down on all the different methods you can use to combat excess estrogen, and to raise levels of the male hormone testosterone. By bringing your body's estrogen to testosterone ratio back into its natural, masculine balance, you will finally see that chest start to flatten out. To learn more, click the following link to watch the video:
http://chestsculpting.com/how-to-lose-man-boobs-naturally-free-video