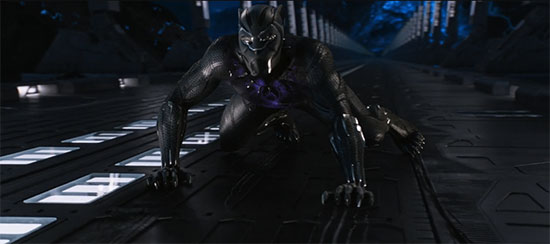 Skip forward to Workout Principle #5 ==>
.
Have you seen the Black Panther movie?
This movie is all over the news, everyone is talking about it.
The one thing it's most famous for is being the most successful movie with an all-black cast.
Being a personal trainer, one thing I focus on a lot in any superhero movie, is the BUILD of the main characters.
T'Challa, the Black Panther, played by Chadwick Boseman, has a lean, functional physique, while his arch rival, Erik Killmonger, the BAD Black Panther, played by Michael B. Jordan, is totally jacked.
Who's Got The Better Body?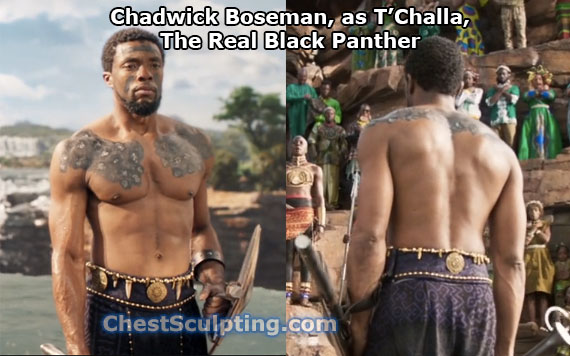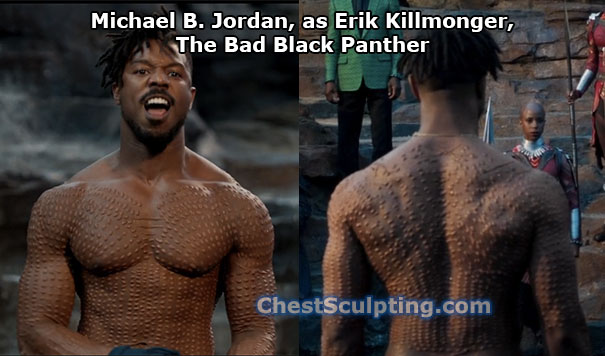 Who has the better body?
Well that depends on your definition of a good body.
If muscle mass is what you care about, then Jordan, the Bad Black Panther, has the better body.
If you care more about functionality, being able to MOVE your body, then the Real Black Panther, Boseman, has the better body.
Having lost my man boobs, I prefer to train the way Boseman does, using functional training like calisthenics and combat training.
But if you're still on the path to losing man boobs or burning excess body fat, then you'd be better off training to get jacked like Michael B. Jordan.
Why?
Because Jordan did a whole bunch of weight training in the hypertrophy range to get jacked like that. Studies show that this style of training boosts testosterone levels the most, which not only helps grow muscle, but also helps get rid of man boobs and burn body fat.
This is the style of training that helped me first lose my man boobs.
Once you've lost your man boobs and burned off your excess body fat using Jordan's training style, you can THEN focus if you like, on Boseman's functional training, so you can DO more with your body.
The BAD Black Panther Workout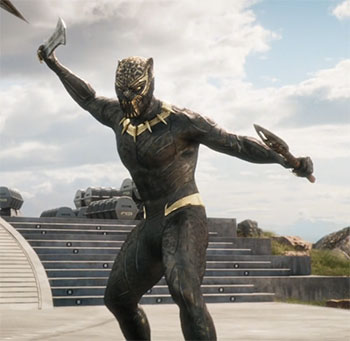 Michael B. Jordan's exact workout routine isn't posted anywhere online.
Unlike other articles online, I'm not going to speculate on what he did and fabricate a workout regimen that Jordan may or may not have followed.
Even if I knew Jordan's exact workout, it likely wouldn't be suitable for you for the following reasons:
Jordan is starting from a different stage than you. He started training for his role as the bad Black Panther after he was already quite muscular and shredded for his role in his previous movie, "Creed". Before that, he was a naturally skinny guy, not a fat guy with man boobs.
It's very likely that Jordan took steroids to prepare for his role as Killmonger (more on this later). Training on steroids is different from training naturally.
Instead, I'm going to share some of Jordan's workout principles that will help you out in your training, steroids or no steroids.
I'll also explain how you can use these training principles to help you lose your man boobs.
Sound like something you wanna read? Alright, let's do this.
Workout Principle #1: Do Mostly Compound Exercises
According to celebrity trainer, Corey Calliet, who trained Michael B. Jordan for his role as Erik Killmonger, the Bad Black Panther,  "[We did] a lot of old-school bench presses, lat pulldowns, deadlifts — nothing fancy, just really contracting the muscle,"
Building a great body isn't about doing lots of different fancy exercises, it's about getting really good at a handful of great old-school compound exercises.
These three exercises target the 3 largest muscle groups in your body: chest, back, and legs.
I would add to the list, squats and a good shoulder exercise—either the shoulder press or gironda lateral raise.
All the greatest bodybuilders in the world, always talk about how their bodies were built on a foundation of these core compound exercises using free weights (i.e. barbell and dumbbells), the likes of Arnold Schwarzenegger, Ronnie Coleman, Reg Park, Franco Columbo, Jonnie Jackson, and Jay Cutler.
Since these exercises target the biggest muscle groups in the body, they result in the biggest testosterone boosts. Since boosting testosterone helps get rid of man boobs, it means that these exercises are the best exercises to help get rid of your man boobs.
You'll see a lot of reports online about how Jordan used a form of split training, where he trained different parts of the body on different days.
I don't know how true these reports are, since I didn't hear Jordan himself say it, but even if it were true, just because split training worked for Jordan, doesn't mean it will work for YOU.
Split training is something that works better for advanced trainees, who are focusing on SHAPING their already-muscular bodies. It's also better for people who are taking steroids.
It's not very good for growing muscle bulk for natural trainees, nor is it very good for burning fat.
If you don't already have a good foundation of solid muscle to work with, and if you either have man boobs or excess body fat, (also if you are not taking steroids), then you need to train your WHOLE BODY every time you train.
This will maximize your body's natural testosterone release, and hence maximizing the rate at which you grow muscle, burn body fat, and lose man boobs.
This is the way I show you how to train in my program, the Chest Sculpting Blueprint.
In this program, I show you how to use the same compound exercises Michael B. Jordan used to prepare himself for his role as Erik Killmonger in the Black Panther movie.
I also show you how to use these exercises in a way that maximizes man boob reduction, body fat reduction, and muscle growth.
Following Jordan's training exactly the way he did it would be a mistake, because Jordan is an ADVANCED trainee who is only focused on building muscle, shaping his muscles, and getting shredded, while YOU are likely a beginner or intermediate trainee whose focus is not only to grow muscle, but also to lose man boobs and/or burn excess body fat.
You have a different starting-point and a different goal, so you must train differently. You'll find all the different details about how you should train to lose man boobs, while also building muscle enough to match the physique of the Bad Black Panther, in the Chest Sculpting Blueprint, which you can learn more about here:
https://chestsculpting.com/how-to-lose-chest-fat
Bad Black Panther's Favorite Chest Exercise
Jordan's trainer, Calliet, said in an interview, "I liked complex fundamental movements, like dumbbell bench presses that would help with separation,"
The awesome thing about the dumbbell bench press is that you can bring the dumbbells together at the top of the movement, in order to target your inner pecs, to get that pec separation line Calliet talks about.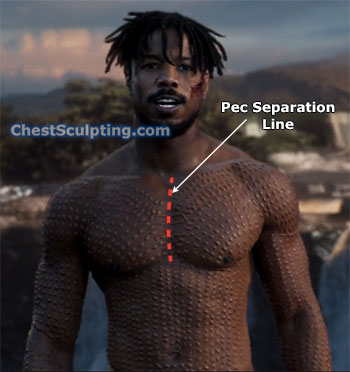 I highly recommend you incorporate this exercise into your routine. Here's an article with video that shows you how to do the incline dumbbell bench press in a way that will help you best get that pec separation line just like Jordan did:
https://chestsculpting.com/the-best-upper-chest-exercise/
Workout Principle #2: Lift Heavy
According to Jordan's trainer, Calliet, when they first started working out together, Jordan "could barely push 25 pounds". "By the time we got to Black Panther, he was doing 115-pound dumbbells."
Now, when I say, "lift heavy", I don't mean just go to the gym and lift the heaviest weight you can find and do one rep.
If you lift a weight that's so heavy, that you can only do 1 or 2 reps, then you'll only be building neurological strength, you won't be building any muscle.
Strength Training And Muscle Building Are Not The Same Thing
In the above picture, the guy on the left is an Olympic weightlifter. The guy on the right is a natural bodybuilder.
The guy on the left is a lot stronger, he lifts heavier weights, but he has no muscle to show for it. The guy on the right lifts lighter weights, and yet he is more muscular and has a much nicer physique.
So what gives? Isn't lifting heavy supposed to give you bigger muscles?
Not exactly.
See, when you do pure strength training, like the Olympic weightlifter above, you'll lift the heaviest weight you can through 1 to 3 reps.
When you train like this, your body adapts through something called "neurological conditioning", rather than through muscle growth.
This is where your nervous system becomes more efficient at delivering electronic signals to your muscles to contract, you are able to recruit more muscle fibers, tense your muscles more, and other such changes that do not involve your muscles getting bigger.
If you want your muscles to get bigger, you've got to dial down the weight a little and increase the VOLUME of your training.
Which Type Of Training Is Better For Losing Man Boobs?
Definitely bodybuilding.
A lot of olympic weight lifters are fat, despite being immensely strong.
Studies show that pure strength training, since it requires doing low volume work, results in very little hormonal changes. And it's those hormones that you need to lose your man boobs – hormones like testosterone and human growth hormone.
How Do You Build Muscle To Help You Lose Man Boobs?
To build muscle, you've got to lift in the hypertrophy range, which is where you lift the heaviest weight you can, through 8-12 repetitions, and 3-4 sets.
What Calliet was referring to, was lifting heavy in the hypertrophy range. He said in an interview, "We lift heavy — a lot, a lot of times."
The idea is that you build your strength up so you can eventually lift heavy weights through multiple sets and reps in the hypertrophy range.
If you can do 8 reps on the bench press with 115 pound dumbbells, your muscles will have no CHOICE but to grow.
So get started on what weight you can handle, and work on gradually increasing the weight.
In my program, the Chest Sculpting Blueprint, I show you a long-forgotten, ancient technique you can use to increase your lifts week after week, until you're lifting those heavy weights just like Jordan did, and building that Bad Black Panther Physique:
https://chestsculpting.com/how-to-lose-chest-fat
The thing is, most people get STUCK on a certain weight, and they never get to lifting any seriously heavy weights through multiple reps in the hypertrophy range.
This is one big reason why most people who go to the gym can never build that Black Panther physique.
Michael B. Jordan, the Bad Black Panther, likely has superior genetics, PLUS he was on steroids, so his trainer, Calliet, had no trouble getting Jordan to lift those heavy weights.
But fear not.
If you don't have superior genes, and if you're not on steroids, know that that ancient technique I reveal in the Chest Sculpting Blueprint can totally overcome those hurdles and get you lifting heavy, no matter how inferior your genes.
This technique was discovered hundreds of years ago, long before steroids were even invented, and it has helped many a genetically "inferior" guy grow some impressive muscles.
Workout Principle #3: 
Work Out 2x Per Day
In a lot of his interviews, Jordan talks about training 2 to 3 times a day.
In an interview of Jordan's trainer, Calliet, Calliet said…
"Training twice a day gets the results I'm looking for with my celebrity clients. The first session includes moderate to heavy weightlifting and typically [high intensity interval training (HIIT)] training for the second."
This is an advanced training tactic that I talk about in my program, Paleolithic HIIT.
Should You Do Both Weight Training AND HIIT?
You can lose your man boobs doing just ONE of these forms of training, provided you do it the right way.
Doing both weight training AND HIIT will accelerate your results.
Where weight training is better at building muscle, HIIT is better at torching body fat.
Both forms of training also complement one another very well:
Weight Training Makes You Better At HIIT
Weight training makes you stronger, which in turn boosts your performance in HIIT.
This is because how fast you sprint in your HIIT training, is decided by power output. Here's how you calculate power in physics:
Power = Strength x Speed
So you need both strength and speed to sprint fast.
Legendary sprint trainer, Charlie Francis, used plenty of strength training to build some of the fastest sprinters in the world.
HIIT Makes You Better At Weight Training
HIIT boosts your heart and lung power, which makes you better able to handle intense weight training workouts.
Ever notice your heart and lungs giving up before your legs during your final set of barbell squats? HIIT will ensure your heart and lungs can handle twice the intensity, so your legs get a much more thorough workout.
Should You Train Twice A Day?
If you are doing weight training and HIIT, AND you are an advanced trainee, then you should train twice a day.
As an advanced trainee, your muscles are bigger, and you are able to lift heavier, and sprint faster.
Hence each workout depletes your body's resources a heck of a lot more than any beginner could.
You are better off bunching all your intense workouts into one day, so you might do a weight training session in the morning and a HIIT session in the evening, just like Jordan did.
Then on the next day, you either rest completely, or you do low intensity recovery work.
As a beginner, no matter how hard you push yourself, your underdeveloped muscles will tire out before you even come close to depleting your body's resources.
That's why beginners have to train differently from advanced trainees, and this is one workout principle where I advise you do things differently – at first – from what Jordan did to prepare himself for his Bad Black Panther role.
For beginners, I advise doing weight training and HIIT on DIFFERENT days.
In my program, called Paleolithic HIIT, I go into detail about how you can train both as a beginner, to build those first muscles, lose excess body fat, and get rid of man boobs, and I also detail how you can later train as an advanced trainee (after you've lost your man boobs) at Jordan's level, so you can further boost muscle gains and boost performance, so you can lift heavier and sprint faster.
You can check out this program here:
https://chestsculpting.com/paleolithic-high-intensity-interval-training
Workout Principle #4: Bulk Then Cut
The fastest most efficient way to a big muscular body that's ripped and shredded at the same time, is to first focus on building muscle mass (bulking phase), and then focus on burning fat (cutting phase).
During the 18 months that Calliet worked with Jordan to prepare him for the bad Black Panther role, it's reported that Calliet got Jordan up to a bulky 193 or 194 pounds, then cut him down to around 184 pounds.
A few months leading up to production, they started heavily focusing on high intensity interval training (HIIT), to further reduce body fat.
This is what all professional bodybuilders do. They bulk all year, and start cutting several weeks before competition to bring out the definition in their muscles.
Now, is this something I recommend you do when trying to lose man boobs?
No.
What's more important to you:
—having a big muscular body like Michael B. Jordan as Eric Killmonger,
or
—losing man boobs and—for now—settling for a body that's a little less muscular (though still muscular, just not as HUGE)?
If your priority is to lose man boobs as fast as possible, then you've got to do it a little differently.
If you're going to bulk then cut like Jordan did, then you'll have to bulk for a year or longer before you've got enough muscle mass to justify moving onto a cutting phase.
This is because you LOSE muscle during the cutting phase, and if you don't have enough muscle to begin with, you could end up undoing all your hard work by losing all the muscle you worked so hard to grow.
So before you start cutting, you better be sure you have all the muscle mass you're able to grow. This could take a year or longer.
The other problem is that during neither phase, is there a huge stimulus for reducing your man boobs.
During the bulking phase, you do whole-body training, which boosts testosterone and can help get rid of your man boobs. However, this is offset by all the excess fat in your body. The enzyme aromatase in fat cells converts testosterone to estrogen, which makes you GROW man boobs.
During the cutting phase, you lose all the excess fat, but you are advised to do split-training to SHAPE your muscles, and split training does not boost testosterone in the same way whole-body training does in the bulking phase. One way to overcome this problem is to do whole-body training during the cutting phase.
But the cutting phase doesn't start until after a whole year or more of bulking.
Are you ready to wait a whole year before you even get started on losing your man boobs?
If you want to lose your man boobs sooner, then you best focus on building muscle and burning fat at the same time.
That's exactly what I show you in the Chest Sculpting Blueprint.
With this approach, you won't build enough muscle to look HUGE like Jordan, but you will lose your man boobs and get that shredded beach-ready bod much faster.
Once you've lost your man boobs, THEN you can focus on growing BIGGER muscles like Jordan, if that's something you want.
So what will it be?–
—train like Jordan and lose your man boobs in 18 months (provided you do whole-body training in the cutting phase)?
or
—train Chest Sculpting Blueprint-style, and lose your man boobs in as little as 3 months?
The choice is yours.
The first option isn't a bad one, you'll get your ultimate best body faster. There's a reason why most professional bodybuilders, including Jordan's trainer Calliet, use this approach.
With the second option, it's like starting off your journey to your best body, with a detour to first get rid of your man boobs.
Workout Principle #5: Active Recovery
Elite Olympic athletes are known to train 6 days a week, up to 8 hours a day. But that doesn't mean they are constantly pushing themselves to the limit on all of those days, and during 8 hours straight.
MOST of that time is spent on active recovery and skill training.
Active recovery is where you do a non-demanding, low intensity exercise that gets the blood flowing and helps speed up recovery.
"Taking a moment, taking a break, I think is super important. You gotta refuel, you gotta rest, you gotta reset. So I think basketball, meditation, you know breathing, don't forget to breathe."
…Michael B. Jordan
Recovery is super important. Your muscles grow while you recover, not while you train.
Michael B. Jordan likes to play basketball, meditate, and do a light round of boxing during his active recovery sessions.
Legendary Olympic sprint trainer, Charlie Francis, would have his trainees do low intensity core exercises on active recovery days.
All these athletes and celebrities are always boasting about how they train multiple times a day, 6 days a week. Jordan boasts of training 2-3 times per day 6 days a week, yet most of that time is spent on active recovery.
They like to boast in interviews for the media, because it makes them look special, like preparing for that awesome movie role took a superhuman effort the average Joe wouldn't be capable of.
So they make it seem like they are pushing it to the max during all those training hours, when in actual fact they are not.
Though active recovery helps you reach the top of your game, it isn't entirely necessary. I personally prefer inactive recovery, where I do jack-all during my rest days, because I have other things to do besides training.
See, the cool thing about doing high intensity training, the likes of Paleolithic HIIT or whole body weight training, is not only does it transform your body FAST, it also means you get to train for a very short time, then spend the rest of your time chilling out with low intensity FUN stuff like basketball, or doing nothing at all, maybe sitting back on your couch and watching TV while your body continues to transform itself.
Workout Principle #6: Coming Soon…