Rusty Moore in Visual Impact Muscle Building covers a lot of the advanced Chest Sculpting tactics that I teach my clients. Since I haven't yet (at the time of writing this article) written a book on Advanced Chest Sculpting, Visual Impact Muscle Building is definitely something you should look into after you've gone through the Chest Sculpting Blueprint.
Though Visual Impact Muscle Building doesn't cover everything in Advanced Chest Sculpting, it DOES cover a very important aspect of advanced training – namely how to convert soft muscle to hard muscle, and sculpt that rugged battle-field look. Another bonus is that Rusty Moore also knows a great deal about good chest development.
I've done my research on Rusty and had a couple of conversations with him. From what I've seen, Rusty seems a decent guy with an excellent work ethic. His book provides a lot of value for guys who are looking to get that beach-body.
Here's what I like about the book…
The thing I like most  is it isn't just a re-hash of everything else that's already out there. Rusty uses his 20+ years of experience in training to actually impart some truly unique advice and ideas.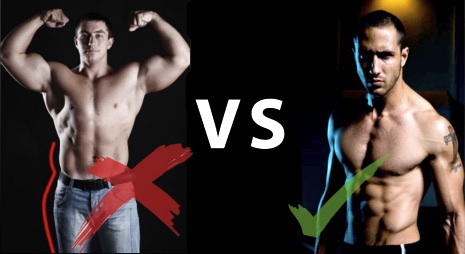 And it's not just the unique ideas. Another thing I like about the book is Rusty shows you pictures of the kind of muscle-head physiques you want to avoid. He points out where the trainees have gone wrong – where they've put on too much muscle, or the wrong TYPE of muscle – and contrasts these with pictures of guys with the ideal physique that you and me want.
It feels a lot like having a personal trainer sit with you and show you where you could go wrong, and what to do to set things right from the start.
One complaint I get about the Chest Sculpting Blueprint is it's too long. Well if you don't like long books, then you'll be happy to know that Rusty's book is only 75 pages.
It's not as thorough as the Chest Sculpting Blueprint, but it's filled with unique and powerful ideas that I haven't seen anywhere else.
What's The Book About?
Visual Impact Muscle Building is based on how to get that "Hollywood" look. There's a lot of mention in the book of Hollywood actors and their training regimes – the likes of Daniel Craig, Taylor Lautner, Brad Pitt and others.
It's about getting that lean and angular "GQ" physique that the girls go crazy for, rather than that muscle-head look today's out-of-touch bodybuilding fraternity aspire to.
See, me and Rusty know that 95% of guys DON'T aspire to be huge bodybuilding freaks. We prefer the lean, angular look that gets women weak at the knees.
After a certain level of muscle growth, you need to change your training approach so you don't just continue to get BIGGER. And believe it or not there are many different ways to further improve your look WITHOUT adding yet more muscle BULK.
A lot of trainers will tell you that all you need to do to look shredded is grow some muscle and strip away the overlying fat. But that's only one piece of the puzzle. Rusty goes on to explain the difference between soft muscle and hard muscle.
I introduce this advanced concept to you in the Chest Sculpting Blueprint. But Rusty goes further by giving you a step-by-step blueprint on how to actually convert soft muscle to hard muscle.
The 3-Phase Visual Impact training routine
As well as all the advanced theory in the book, Rusty gives you an easy-to-follow 6-month training routine with 3 phases plus a bonus phase.
Phase I: Sarcoplasmic Hypertrophy
This is equivalent to the Chest Sculpting Beginner's Program. It's about growing muscle and losing fat in the quickest, easiest way possible.
Nothing new here. The next phase is where it gets exciting.
Phase II: Increase Muscle Density
Once you've achieved the right amount of muscle SIZE with Phase I, you switch gears to Phase II and start building in some muscle density.
This is where Rusty tells you about his advanced 'hybrid' training, where you combine sarcoplasmic hypertrophy with myofibrillar hypertrophy.
Unlike strength training or hypertrophy training, hybrid training isn't something that's talked about much on the internet or in other books.
Rusty draws from his own experience here to show you 4 different forms of hybrid training on pages 20 and 21.
With hybrid training, your muscles continue to grow at a slower rate, while you increase muscle density to improve the way you look.
Now before I read Rusty's book, I had never even thought about combining sarcoplasmic and myofibrillar hypertrophy in one workout. I always used to do these types of training separately. So this really helped with my training (thanks Rusty!)
Phase III: Maximum Density and Definition
If you like you can stay on Phase II, you'll get some amazing results.
But if you really want to harden up those muscles by increasing neurogenic tone, you need to go up a gear.
In Phase III, you're pushing for raw strength with super heavy weights, low reps and long rest intervals. This will increase the 'neurogenic tone' of your muscles, where your muscles are in a partially contracted state at rest.
After phase III, your body will feel hard, even when you're not tensing. Neurogenic tone goes a long way in giving you that Greek Statue look.
Bonus Phase: The Shrink-Wrap Effect
Rusty's signature "Shrink-Wrap Effect" is way cool. I use it to this day to get that perfect beach-body just before summer kicks in.
Though Rusty wasn't the first one to come up with this idea, he's the only one I've seen describe it in detail, and give you a step-by-step method to go out and achieve it.
He explains how Taylor Lautner and Sylvester Stallone used this method to look their best before a movie role, and how Arnold Schwarzenegger used it to prepare for his bodybuilding contests.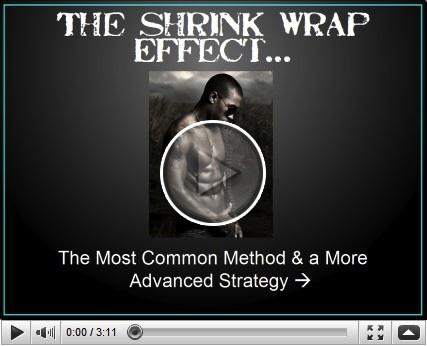 The Shrink-Wrap Effect basically involves slimming right down by reducing muscle size and fat. You wait a few weeks while your skin adjusts by tightening around your slim frame. Then, a few weeks before an event, you follow a hypertrophy (Phase I) training protocol to suddenly increase muscle size.
This forces your skin to be tightly wrapped around your muscles, giving you that super shredded, out-of-the-world action-figure look.
Rusty gives you a step-by-step plan on how to make this work most effectively.
What Do I NOT Like About The Book?
There are very few hard and fast rules when it comes to training, so it's only natural that me and Rusty disagree on a few points.
Generally though, we have a similar goal and mindset. We are out there to sculpt physiques that LOOK great, rather than just trying to build bigger muscles.
Here are a couple of points we disagree on:
We're both very adamant that you shouldn't put too much mass on your legs, because it takes away from the appearance of your upper body. But in my opinion Rusty takes it a little too far by saying that after a certain point you should STOP training your legs entirely.
I really think this is a big mistake, as you will be missing out on the metabolic and hormonal advantages of leg training. If your legs are gettin' too big, I suggest you CHANGE your leg training so you focus less on size, and more on density or endurance.
One thing the book does not cover is how to tackle a muscle group differently based on its ratio of slow to fast twitch muscle fibers. This is something I mention in the Chest Sculpting Blueprint, and I'll cover it in detail in Advanced Chest Sculpting.
The chest for example, contains mostly fast-twitch muscle fibers, and will respond best to power and strength. The legendary Reg Park for example, mentioned that he tried to reduce his chest size by lifting heavier, but it didn't work and his chest continued to get bigger.
Sometimes, with some muscle groups, lifting heavier will not slow muscle growth.
But this is really not a big deal in Rusty's book, because he shows you how to TWEAK your training depending on your results. So if your chest IS getting too big, you'll know what to do.
Closing Thoughts…
I enjoyed reading all the refreshingly new and unique ideas Rusty brings to the table in his book. His ideas have helped me improve the way I train myself and train my clients.
The trouble with weight-loss, muscle-building and fitness in general, is the science is far from being anywhere near exact. There's also so much that the science hasn't even touched on yet.
What we rely on is the experience of professionals.
You'll find plenty of studies out there on how to maximize gains from strength training – you do multiple sets, rest 2-3 minutes between sets, lift heavy in the 3-5 rep range, etc…
But when it comes to hybrid training – combining hypertrophy with strength training and increasing density and tone, there's barely anything concrete in the scientific journals. The only way to learn about this is through experience, and Rusty with his 20+ years of experience in the field, seems to have it covered very well.
So if you're thinking about what you need to be doing AFTER you're done with the 12-Week Chest Sculpting Beginner's Program, I suggest you pick up a copy of Rusty Moore's Visual Impact Muscle Building.
Click here to learn more about Visual Impact Muscle Building