We know that food is 85% of the game when it comes to burning fat, growing muscle and sculpting a masculine physique.
No amount of exercise can undo a bad diet.
The typical chocolate bar contains over 500 calories. That's the equivalent of running a whole hour on a treadmill.
A high carbohydrate diet also increases insulin levels in your blood, making your body ultra-resistant to fat-loss, no matter how hard you exercise.
The key to the perfect physique is DIET, not exercise.
The trouble with exercise is it makes you hungry. It also makes you feel like you can get away with eating whatever the hell you like. Another problem is for a lot of guys it's too much effort to both exercise and watch what you eat at the same time.
After a hard session in the gym, you just wanna get home and munch on fast food, sugary snacks or the same home-cooked meals that have been keeping you fat all your life. The last thing you want to do is eat healthy.
So what's the solution?
Well it's simple.
STOP EXERCISING AND SORT OUT YOUR DIET.
This is the single best move I made back in my obese man-boob days. Sort out your diet first, set yourself on the path of losing weight by diet on its own, and only then introduce exercise back into the equation.
Which diet should you follow?
The best diet for both losing weight while maintaining and even boosting your health is a low carb diet, in particular the Paleo diet, which you can read about for free online. The best diet for losing man boobs on the other hand, is a variation of the Paleo diet, which I reveal in my program, How To Lose Man Boobs Naturally.
A system that makes following your diet EASY
Once you're clear on what to eat, you need to come up with a system that makes eating this stuff EASY.
When you come home from work and you're famished, the last thing you wanna do is put on your apron and start cooking. That just takes way too much willpower. What you'll do when you're hungry is reach for that ready-made high carb snack, or whatever's readily available.
See, there's one single factor that can mean the difference between success and failure when it comes to fixing your nutrition and transforming your physique.
This factor is PREPARATION.
As good ole Benjamin Franklin put it,
"Failing to prepare is preparing to fail."
When you have delicious nutritious meals cooked in advance so they're just a 30-second microwave away from ready, THAT'S when following your new diet becomes easy. THAT'S when you need Zero Willpower to transform your physique.
Enter The Zero Willpower Eating System
I found out about this system when I was randomly checking out some threads on a weight loss forum. There was this guy who made a comment about Mike Chang's program, Six Pack Shortcuts. He said something along the lines of: "The program's OK, it's not amazing. But the Zero Willpower Eating System, the whole tupperware diet thing, makes the program worth every cent". He then went on to describe the tupperware diet, and it really got me curious.
The Tupperware Diet
So in the Zero Willpower Eating System, Mike Chang and his friend Dan show you how to prepare your meals in advance, put 'em in tupperware containers (one meal per tupperware), and bung 'em in the fridge. Every 3 hours, or when you feel hungry, just pull one out, pop it in the microwave, and hey presto – one tasty nutritious meal, ready to be devoured.
What's In The Program?
6 Nutrition-advice videos, and 7 in-kitchen cooking videos. Each video ranges from 10-40 minutes long. The cooking videos are what's really interesting, so more about those here.
Video 1. Cooking Intro

In this video, Mike (right) and Dan (left) explain why the Zero Willpower Eating System works, especially for MEN:
A. It's cheap
B. It's convenient & saves time
C. Works for lazy people
D. Works for guys who don't know how to cook
E. It's tasty!
F. Each meal is accessible to you in minutes, so it's easy to be compliant with your diet, it stops you from cheating.
Mike outlines 5 very important nutritional guidelines. The only one I disagree with is that your meals have to be low in fat. In my opinion, if you're going low-carb, there's no point in going low-fat as well. The latest studies suggest that fat is good for you (yes, even saturated fats!)
Mike and Dan run through the different types of food you'll be using in the system. There are protein sources like different cuts of beaf and pork, chicken, fish, eggs and cheese. Carb sources, including brown rice, sweet potatoes, whole wheat pasta and oats, and veggies like spinach, carrots, asparagus and broccoli.
My suggestion would be stay off the grains, even if they're brown or whole-wheat. These may be better than their white, refined counterparts, but they still raise your insulin levels and make it difficult to lose weight. To replace the carbs, just add more meat/fish/egg, and more veggies.
Near the end they discuss a really cool method that makes it easy to carry your food around with you, so you can take it to work. Mike shows you how you can keep your food warm for up to 10 hours when you don't have access to a microwave. This technique is almost ingenious, and yet so simple, anyone can use it.
Video 2. Cooking Beef

In this video, Mike and Dan show you how to prepare and cook ground beef and 2 different cuts of steak.
The recipe for ground beef is awesome. All you do is add one seasoning, 2 sauces, an egg and minced onion. You mix it up in a bowl, throw it on the grill, pat it flat with your hands, close the grill, and then cut 'em up into patties after they're cooked. It really doesn't take long at all.
It's all done in real-time, and Mike'n Dan show you how to be super-efficient by preparing one recipe while another is still on the grill.
They also discuss some useful nutrition tactics while waiting for the grill to finish cooking. They talk about the best and cheapest cuts of steaks, and Mike gives you a cool tip on how to save money on lean ground beef.
One thing I like in particular is how throughout the program, Mike and Dan each show their own cooking and seasoning preferences, so you often get different recipes from 2 different guys, and you can test 'em both out to see which you prefer.
Video 3: Cooking Chicken

Here, Mike and Dan show you 4 different ways to cook chicken. It's super-easy. Just sprinkle on some seasoning and bung it in the grill.
They also discuss what to look for when shopping for a grill. The main tip here (and what I advise) is look for the grill with the largest cooking surface. Being able to fit more on your grill in one go will save you a hell of a lot of time. You will literally halve your cooking time just by doubling the size of your grill.
Video 4: Cooking Fish

How to cook salmon and tuna.
It's all so simple, there's really nothing new here. Just sprinkle the right sauces and seasoning, and bung it in the grill.
Mike and Dan discuss other types of fish you might try depending on your budget.
Dan talks about the idea that if you have a little extra cash, you can get someone else to do the cooking for you once a week. And because it's such a simple system, you don't have to hire an expert chef. You can get any old idiot and teach 'em how to do it in a few hours.
Video 5: Cooking Vegetables

Alright, so this is probably the least exciting video of the lot. But vegetables ARE important, so make sure you don't skip it!
Mike shows you how to prepare and cook broccoli.
The two discuss different types of vegetables, and share their experience of different cooking methods.
Video 6: Cooking Wrap-Up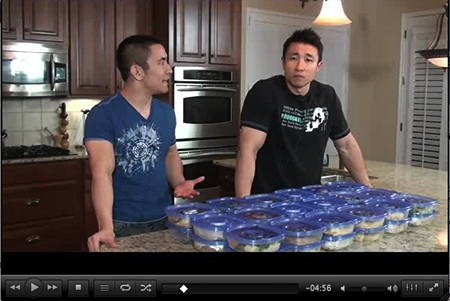 This video is really inspiring. You get to see the fruits of their labor. Look at all those tupperware boxes. Imagine having a delicious meal in each one, each box ready to take out as soon as you feel that stab of hunger stirring in your stomach.
They talk about how long it took them to prepare all of those containers, how long it'll last 'em, and how much it all cost (very cheap indeed). They also open a few of the containers and show you what's inside.
Maybe I'm just really hungry right now, but boy does it all look delicious!
Nutrition Advice Videos
The cooking videos above are the most useful in the program. Those videos alone were worth more to me than what I paid for the entire thing.
In the nutrition videos, Mike and Dan talk about different topics like why snacking plays an important role in shedding those unwanted pounds, hydration and the different types of liquids you should be drinking, social situations that can affect your diet  – going out, eating in restaurants etc, addictive foods, supplements and diet.
These videos offer some useful and valuable insights if you don't already know much about nutrition. But for someone like me who has some experience under his belt, there's nothing all that new here, and a lot of this stuff you can learn about on the internet.
Why I think you should get the Zero Willpower Eating System
The reason I suggest you invest in these cooking videos, is because they are almost perfect for the average guy who's looking to lose man boobs or belly fat.
It's cooking made easy for men by men. The whole 'zero willpower' concept is awesome, because having those tasty tupperware-filled meals, ready to pull out and devour in an instant, means you never cheat on a meal again!
You can take this stuff with you wherever you go, and with Mike's special tip on how to keep those tupperwares warm for up to 10 hours, you never have to suffer a cold meal again.
So don't wait.
If you've been exercising with little results to show for your hard work, it's probably because your diet totally sucks. Sort it out dude. Cut out those carbs, go Paleo, and get on the Zero Willpower Tupperware System right now:
Click here to send for your copy of the Zero Willpower Eating System
Update: Unfortunately, the Zero Willpower Diet is no longer available for purchase.
It's a shame those guys are no longer selling that program. But hey, if you want dietary guidance on how to lose man boobs, you'll find all you need in How To Lose Man Boobs Naturally:
https://chestsculpting.com/how-to-lose-man-boobs-naturally